Everyone wants a bustling practice. A full schedule. Happy patients filling the waiting room. The question is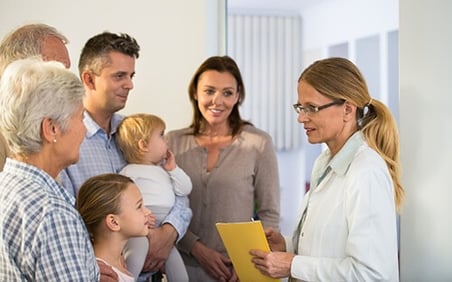 —how to make that dream become a reality? One of the most important elements of practice marketing is one that is also often overlooked. Patient referrals.
The stats don't lie:
Unfortunately…
Those numbers are dismal. Pretty much everyone agrees that referrals are the most effective, and cost-friendly, way to attract patients. So why don't we do it more? Probably because asking for referrals can feel awkward. Subsequently, many simply ignore referrals.
It's time to change that. Today's technology makes connecting with patients easier than ever before. Use these quick steps to up your referral game.
Put fear behind you—Fear is the driving factor behind many practices not asking for referrals. No one wants to come off as desperate or pushy. Keep in mind, however, that the cost of a single patient found through regular marketing techniques is

10X more

than the cost of a patient found through referrals. In addition, the vast majority of patients are actually happy to refer friends to you. You really don't have to be off-putting when requesting referrals.
Go above and beyond

– This may seem obvious, but patients should have a reason to refer you! People are way more likely to tell their friends about what an incredible practice you have when your service goes beyond what they expect. Amazing service starts with the simple things like knowing a patient's name (or the names of their kids) when they come in for a visit. Using eye contact, greeting them like an old friend, and taking time to really listen are all easy ways to set your service apart. In addition, you can educate and connect through social media, newsletters, community events, and more. (Check out some additional tips on becoming a "Super Practice" in this free guide

Seven Steps to Improving Patient Relationships).
KISS (Keep it simple, stupid) –

The truth is that we are kind of a lazy society. We don't like to do

anything if it's going to be too hard. When asking for a referral, you are asking a patient to go beyond the norm and do you a favor. In order to get the best response, it needs to be simple. You should have "refer a friend" links on everything you send out—from your emails and newsletters to your website. These links should request the minimum amount of information possible.
Be grateful– Gratitude is a powerful emotion. When you thank patients for referring friends, not only does their patient satisfaction level jump, but they are also much more likely to refer more friends in the future. In fact, it is not uncommon to receive a vast majority of your referrals from a small group of motivated patients. One way to show gratitude is by offering patients a reward for referring you to a friend. Studies show that people are much more likely to refer a friend when you offer some sort of incentive. What is interesting is that the dollar value doesn't make much of a difference. A $10 coffee card may motivate people just as much as a $50 card. Just find something that resonates with your patients and you'll find success.
Find the right timing—When is the best time to ask for referrals? When a patient's appointment is still fresh in their minds. If you have a particularly happy patient, simply ask them in person if they would be willing to refer you to friends. In addition, you can send out a simple email after each visit asking for some feedback on how everything went. At that time, you can also ask patients to refer a friend.
Become a contact

-John is hanging out with his buddies when one mentions that his tooth hurts. He whips out his phone and gives his friend the name and number of your practice. This is only possible, of course, if your office name is listed as one of his contacts. This is most easily done if your patients are used to texting you.

Modern day technology

makes it possible for you to text from your office line. This means your patients will always have your contact info whenever and wherever they may need it.
Just ask –

Okay, this sounds almost stupidly simple, but the truth is—not very many of us ask. Circling back to tip #1, it is imperative that we get out of the fear mindset and just ask. This can be done before, during, and after an appointment. It can be done face-to-face, via text message, through email, newsletters, and more. The biggest mistake practices make is not even trying. So, pick a tool, get the whole office on-board, and start!
While it is easy to become buried in the hundreds of different marketing methods available to us, studies show that the #1 most effective marketing method for healthcare practices is still word-of-mouth recommendations. So what are you waiting for? You may be surprised at how easy it is!
Want to find more time to work on your practice marketing? Read the Eight Opportunities to Increase Office Efficiency.