Google has become such a big deal that it's no longer just the name of a company—it's actually a verb. We don't just look something up online, we "Google it." Google is where everyone turns for answers to their questions—including your patients (or potential patients!). As such, it's critical that you take advantage of your Google My Business profile as much as possible. Google is continually making updates to allow businesses to do more and more with their profile. In fact, just in 2018, there have been multiple additions and upgrades to the feature. Here are some of the best things you can do to optimize your Google My Business Profile.
First, a quick refresher. Google My Business is that little box that shows up in the Google search results when someone "Googles" the name of your company. You can see Solutionreach's "Google My Business" profile in the image below:
If you have not yet set up your business profile, we've written a full blog post explaining how to do so. You can read that here. If you already have a profile, have you updated it recently? Did you know that Google is continually making additions to its features? You should make sure that you are regularly looking at your profile (I'd recommend putting a reminder on your calendar every six months) and taking advantage of anything you might have missed.
There are a few things you can do to really maximize the use of your profile.
1. Make sure to include images. According to Google, businesses with photos see 35 percent more clicks to their website and 42 percent higher requests for driving directions in Google Maps. So make sure you have attractive photos included in your profile.
2. Use Google's Q&A section. Google has been working to make their profiles as expansive and helpful as possible. One addition in 2018 was a question and answer section. If you enable this section, potential patients can ask questions about your practice and others can answer them. For instance, a patient seeking dental treatment may ask, "Does this practice offer sedation?" Both your practice and consumers can answer these questions. In addition, you are able to "seed" questions themselves so you make sure that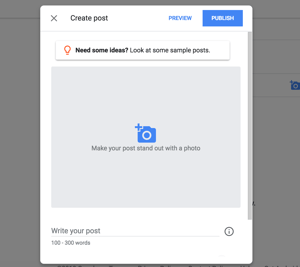 the most common questions are easily seen by potential patients. This is a great resource that walks you through how to use the Q&A section to your advantage.
3. Add posts. You can now post on your Google profile, much as you might on social media. Are you having a big event? Wanting to share a fun story? Upload that post to Google and let people know all about it. It helps your practice really show off your personality and better connect with potential patients.
4. Book online appointments. Much like texting, if you have an online scheduling software, you can enable that in your Google profile to send people directly to your booking system. There would be no need for them to find your website or phone your office. You increase the chance that they will schedule an appointment while saving your front desk staff the time they would have spent on the phone.
As Google continues to grow and change, it is important that you grow with them! Make sure that you are working to take advantage of the latest additions to the Google My Business world. :)
You may also want to check out our free guide, "The Ultimate Guide to Looking Awesome Online." It has tons of other tips for making your practice stand out online.