Solutionreach Practice Referral Program
Make money making referrals
Solutionreach ambassadors earn $50 for every referral who completes a demo and $500 for every referral who signs up.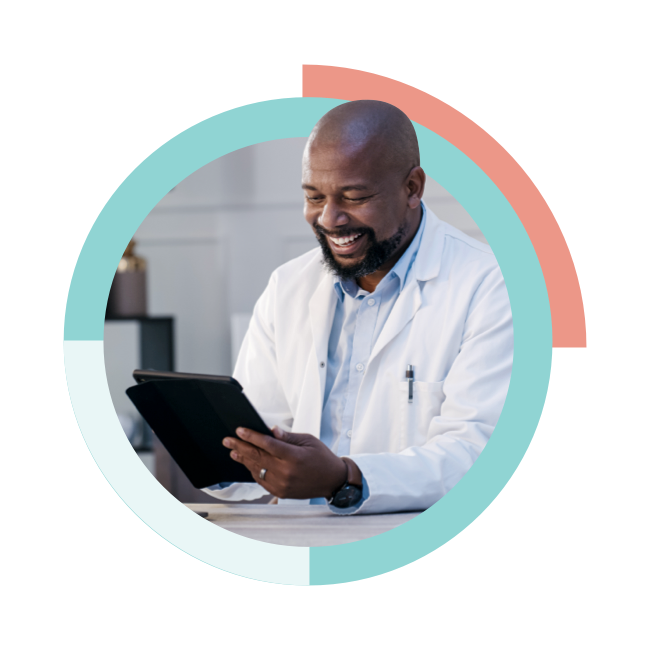 How it works
Become a Solutionreach Ambassador, share your unique referral link with your network, and get paid. It's that simple.
The perks
$50 Visa gift card for referrals who complete a demo
$500 Visa gift card for referrals who sign up
Personal dashboard to track your referrals
*See program FAQs, terms, and conditions below
Frequently asked questions
What is an SR Ambassador?
As an SR Ambassador, you are just that—an Ambassador. You can earn serious money referring healthcare professionals who you feel would benefit from Solutionreach. We will give you the tools you need to succeed. Using the SR Ambassador platform, you will be able to share your personalized link via email, social media, and more.
How do I get set up?
All you have to do is sign up. Once you're approved to be an SR Ambassador, you can start sharing your unique code.
How can I use the SR Ambassador platform to promote Solutionreach?
Inside the platform, you can easily send out your messages via Facebook, Twitter, LinkedIn, and email. All messages will have your personalized code embedded in them for tracking purposes. You will be able to log into your SR Ambassador account to view the status of your referrals.
How do I send out a Solutionreach message via social media?
Log in to your account. In the Dashboard, scroll down toward the bottom. You'll see options to instantly email, post on Facebook, post on Twitter, or share on LinkedIn. You may need to set up your social credentials but that's it—quick and easy from your SR Ambassador dashboard.
How can I use the other assets found in the dashboard?
Within the SR Ambassador platform, you can instantly share your referral links via our social media ads or you can access and download additional SR marketing assets. These assets are found in the Assets tab on the left side of your personal dashboard. You'll need to download the asset and place it in your social media channels. Remember to add in your Campaign URL. This URL can be found at the top of your page and tracks anyone who uses your link to your referral list.
How will I get paid?
One of the best parts of the program is the real-time payouts of commissions. To make this real-time, we are paying out with Visa gift cards that will be directly emailed to you. You'll receive a $50 Visa gift card after your referral completes a demo and $500 Visa gift card when they activate with Solutionreach. A W-9 will be required in order to approve payout.  A link will be available in your welcome email where you can securely sign the W-9 online. If you are paid out more than $600 during the year, you will receive a 1099 form from our accounting department. All referral fees paid under this program are subject to Solutionreach's policy on lead source referral conflict resolution.
Is there a limit to how much you can make in the program?
No, we want you to be successful, so it's up to you. However, there are limitations on what you can make per lead or account. Our limit per account is $10,000 which would be due to a referral lead having multiple locations.
What if I refer a multi-location practice?
We pay $500 for the initial location and $250 for additional full-time locations. The maximum payout is $10,000 for a lead or account that has multiple locations. For example, if you refer an account that activates 10 full-time locations, your commission would be $2,750 ($500 for the first location and $250 for the 9 additional locations).
How can I track my referral leads?
The SR Ambassador platform allows you to track leads in real time in your SR Ambassador dashboard. It's that easy! You can see what you've earned, what's awaiting approval and payout, and what you've been paid. You can even see your social stats by platform and see how many shares, clicks, and referrals you get from each social media platform you use.
Can I share via more social media platforms besides Facebook, Twitter and LinkedIn?
Yes, you can share your personal campaign link anywhere it allows you to share a URL. For example, you can use our assets for social media or for ads on blogs and websites.
Can I request a different size image to an asset?
Yes, email sales@solutionreach.com and we'll try to accommodate requests of this nature within 48 hours.
Who do I contact if I have any recommendations, questions, or issues with the SR Ambassador platform?
Please email sales@solutionreach.com.