Have you ever thought about advertising your practice through ads on Google or Facebook?
As everything moves online, digital ads are the future of marketing your medical practice. The biggest platforms for marketing your practice online are Google AdWords and Facebook ads. Each has their own unique advertising benefits and downfalls and each can really benefit your practice. For the sake of keeping this article short, I will not talk about the details of how to set up or maintain each ad platform. Instead, we will review the differences of each platform and I will leave links to learn more. If you would like a tutorial for how to set up your ad platforms, let me know in the comments and I will write another post in the future.
Attracting patients online with Google advertising
Let's start with Google's advertising platform, AdWords. Google's advantage is that…well, it's Google! It is the main platform people use to search out information, including searching for doctors. Paid ads on Google will help you get your practice information into one of the top four slots of the search results but for a price. Here is how AdWords works:
You tell Google when, where, and for which keyword you want your ads to show up for during a search. You can choose your keywords. They may be things like, "orthodontist near me" or "best dermatology clinic in Houston."
Because AdWords is an online auction system, the price you pay for your ads is based on what other competitors are willing to pay for the same keywords in that area.
You write the ad's headline, URL, and text of the ad. This gives you complete control of what the ad says and even allows you to customize different ads for different keywords.
For example you can write an ad specific for the keyword, "emergency dentist," to an ad that designed to talk about your emergency dental procedures.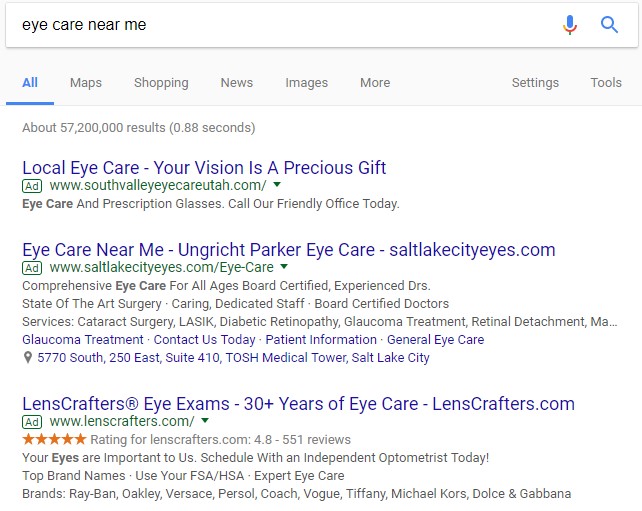 Here is an example of what the ad could look like. I searched for "eye care near me," from our office in Lehi, Utah.
As you can see, there are three ads, each with unique ad copy for eye care providers in my area.
As a side note, you can also see additional features such as reviews, location, etc. on some of the ads. These are ad extensions and can be added in AdWords and Google decides when and how to show them.
Google AdWords has some downfalls however. Since it is an online auction prices for clicks can become more expensive than other methods.
For the medical industry, the cost per click averages around $3.17, and in some cases can get to $10-$20. So if you aren't careful with setting your budgets and your target keywords you can end up wasting money fast.
AdWords has a lot of great features and can be very profitable, but it can also be complex and require some expertise in setting up and maintaining the account. Google provides some good online resources or there are online ad agencies that specialize in managing your ads for you.
Attracting patients online through Facebook advertising
Facebook has very different advantages and disadvantages than Google. Where Google is focused on targeting the keywords people search, Facebook targets users by user information.
This means that if you work for a high-end dermatology clinic, you can create ads that target women from the ages of 30-50 in whatever target cities you want that have graduated with an undergrad from a university, and make above $80,000 a year. Facebook continually purchases lists of emails, phone numbers, and collects data on social status, current jobs, and schooling. All of which they use on their platform to help advertisers target their best audience possible. So if you know you target persona, (your ideal client and what characteristics they have) you can target them in your location with an image or video that promotes your business. Facebook has a learning center as well and help center for questions.
You can target users by age, gender, location, education, work, finances, home, politics, or target specific users with email, name, and phone number lists.
Facebook does have a great competitive edge but it also has some disadvantages. Even though the ads are very targeted to your ideal clients, when people are scrolling through their feeds they may not be in the "I need a new doctor" mindset, whereas Google AdWords targets people currently searching for a doctor. So it is great to get people aware of your brand to the right audience at a much cheaper cost than many other old school advertising, like billboards and magazines.
Google and Facebook have many great and different advantages to advertise your practice. My suggestion is test each one out! They can both show you how many visitors they've brought to your site and how many called your practice or filled out a form based on the ad. This helps you see how much is spent and how many clients you are bringing in and for what cost. Give it a try! If you have questions, feel free to ask in the comments.
Want more information? Check out our guide, How to Get More Patients.
For more information on online marketing, check out the free guide, "How to Make your Practice Look Awesome Online."