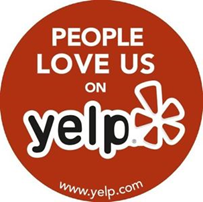 In the era of online reputation and health consumerism, online reviews can be boon or doom, whether they're on Facebook, Yelp, Google, or anywhere. Yelp is my favorite for health businesses, because believe it or not, this popular app for rating consumer services has been studied in formal research about healthcare-and it correlates with quality! Amazing? Perhaps not, because good quality and good service both require attention, care, and focus.
Founded in 2004 "to help people find great local businesses like dentists, hair stylists and mechanics," today Yelp hosts 171 million reviews on everything from locksmiths to landscapers, pizza to plumbers. They claim to have 100 million users per month!
But how can you methodically please raters who have no professional qualifications?? What do you aim for?? There's good news and bad news.
The bad news is, there's no objective standard. The good news is, all the five-star-rated businesses show that it can be done.
It turns out that happy consumers correlate with clinical measures, and it's not that complicated: it's common sense. Consider these professional publications:
A 2013 paper in BMJ Quality and Safety found, "rater experiences for Yelp and HCAHPS [Hospital Consumer Assessment of Healthcare Providers and Systems surveys] may be similar, and that consumers posting ratings on Yelp may observe aspects of care related to important patient outcomes."
A remarkable paper was published for the New York State Health Foundation by consultant Manhattan Institute in 2017, going significantly deeper and wider than the 2013 study. It noted two important weaknesses in HCAHPS: "significant lag times" [between surveys and low rates of utilization. Yelp reviews were written "in real time and often written by patients for patients" and perceptions of what matters most to them can change over time." Yelp reviews also capture the opinions of caregivers, which may be particularly salient in cases where patients are frail, elderly, or unable to complete a survey or adequately advocate for themselves.
This is not to say that everything's rosy, though—a 2018 study (also in BMJ Quality & Safety) found poor correlation between Yelp ratings and objective quality measures from the Nursing Home Compare website. Delicious opportunity for more study!
Three things you can do to put happy numbers on Yelp
Ask people to rate you! Patients are surprisingly happy to leave you a rating…IF you ask. Because it feels awkward and intrusive, we are often hesitant to ask patients to leave reviews or ratings. Don't fall into this trap! By the simple task of asking, you are much more likely to build up that online reputation.
During the visit ask basic customer service questions: How was your wait time? Did we answer everything, and are you clear on the answers? If you did your job well then these questions won't take any more time or money from your practice. But if you didn't then you'll know right then and there that you have an unsatisfied customer and this small gesture of communication can lead to a lifetime consumer, and possibly more referrals.
A simple follow up text or email inviting more feedback: How was your visit? How was your wait time? How are we doing? Just be sure to do something with the responses—don't stuff them away in a black hole of papers to review another day. Your consumer was kind enough to say something to you—that's gold (and generous). Listen and really hear them.
If the complaints or compliments are consistent, figure out a way to fix them or build on them, before they hit the internet for all to see.
Of course reviews aren't perfection—but undeniably they represent consumers' opinions. And as with all surveys, the more ratings you can see, the more dependable the rating is.
As the Manhattan Institute paper says, "We do not argue that Yelp alone is, or can be, the only guide to quality hospitals. However, when people can choose where they will obtain care—as do patients with traditional Medicare coverage for elective or planned surgeries, or when consumers can choose among insurance options—Yelp ratings can provide a helpful guide. This tool will get even better at helping patients identify quality institutions and physicians as the number of Yelp's hospital and provider reviews increases."
So dive in! There's more to business success than dollars and cents—do everything you can to make life easy for clients.