If you require immediate Solutionreach Support, you can search our Knowledge base and help articles or to chat with a representative now, click here then:
log in in the top right hand corner of the screen
Chat away!
It's another crazy day at the office. You have a full schedule (which is great!), but you are also trying to get caught up on emails, managing overdue patient bills and returning patient calls. You know how important it is that the patients being seen that day don't feel your stress as they arrive for their appointment. We understand this too and know that it's on these chaotic days, should you find yourself with an issue regarding your Solutionreach service that you need immediate assistance with, you simply don't have time to pick up the phone and have that conversation. That's why we implemented the "Mad Chatters", our new online support feature.
Throughout the day, you are consistently serving your patients at your front desk and trying to make every patient feel like the only patient. It's hard to do that when you find yourself needing immediate assistance with technical issues, customizing your patient communication, or learning how to make the most of your platform features.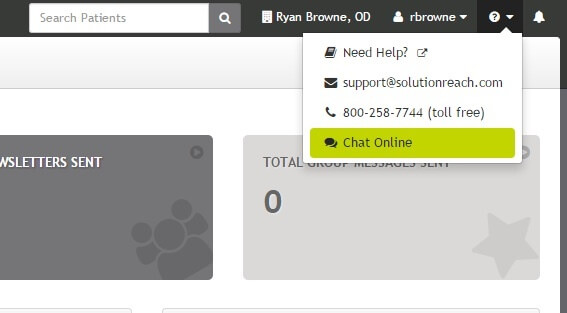 When you find yourself too busy to stop and pick up the phone but have a quick question or an issue that could take some time and research to resolve,
just simply click on the chat icon on your dashboard and fill out the short form with the information we need to best assist you, and a client success representative will jump online to help you! If your issue will be easier to assess through a screen share or a phone call, we can do that, too, at a time that is convenient for you.
We hope you are just as excited as we are about providing your staff a means to communicate with us without interrupting your workflow. Read what some Solutionreach customers already have to say about our "Mad Chatters."
"The new chat option was a GREAT addition! I think it will serve your customers well. It saves us time by not having to call in for something simple." – Whitney Bell, Office Manager/Registered Dental Assistant, Dr. Portia J. Bell, D.D.S., Inc.
"I love the chat feature! It allows me to get help without being on the phone. Since I work at the front desk, I can use chat even when patients are coming in and checking out at the front desk." – Claire, Office Manager, Distinctive Dental Solutions
"Love the chat feature for quick questions. Thanks for incorporating it for us.!!!" – Terri, PA, Kevin Hamblin DDS
"I LOVE the option for Live Chat. I am able to help patients and answer phone calls while I am getting an issue fixed. It is a great tool. Your reps are all very knowledgeable and helpful. We love Solutionreach & what you do for our business

" – Stacy, Office Manager, Elite Smiles Dental, Fox Dental Associates
Try it! We know you'll like it!