Patient engagement is one of those phrases that's been thrown around so much in recent years that we almost start to ignore it altogether. We get it. Everyone want patients who are engaged in their health. But have you ever stopped to really think about why? Why is it important? Why is it such a big focus in the industry. I like to think of patient engagement as basically healthcare's version of customer satisfaction. If you asked any person you meet on the street why customer satisfaction is important, pretty much everyone could answer. You want customers coming back. You want them sharing their experience with friends and family. You want to create a brand that is known for quality and excellence—and this can only happen with happy customers. High levels of patient engagement is our version of outstanding customer service. Unfortunately, experts warn that just 34 percent of patients are highly engaged. Ouch.
Patient Engagement Starts (and Ends!) with the Doctor-Patient Relationship
According to a study published in the journal Health Services Research, the relationship between a physician and their patient is the key to high patient engagement. After researching over 8,000 Americans with chronic illnesses, experts found that there were three factors that had a huge impact on a patient's engagement levels. These included:
The quality of the patient-physician relationship—especially how well the doctor communicates in the office
The amount of respect and fairness patients felt they received
The frequency of patient-physician communication outside of the office (through email or phone)
The study found that patient communication was one of the most critical elements of success: for every one unit increase in the quality of interpersonal exchanges, patients reported a 10 unit increase in their overall engagement levels.
Tips to Improve the Doctor-Patient Relationship
Proactively seeking ways to improve the relationship physicians have with their patients can create an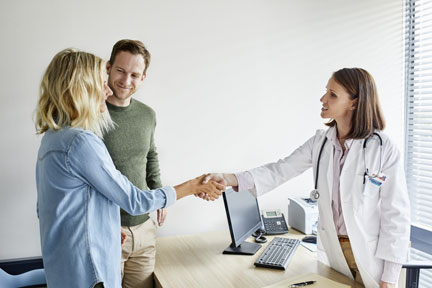 entirely new environment for patients and staff alike. As patients feel more valued and engaged, many typical practice challenges (like dealing with no-shows, managing patient complaints, and so on) quickly diminish. Here are a few things that every practice can do to improve their relationship today.
1. Be patient. Everyone in healthcare is busy. It can be easy to guess what a patient is going to say and interrupt, or worse, ignore them when they speak. Don't give in to this temptation. Use your active listening skills to direct all of your energy towards the patient. Keep your body language, mannerisms, and pacing of the conversation in mind. You can read more in-depth about improving patient communication skills in this blog post.
2. Be respectful. Just as you are busy, so are your patients. They have likely made room in a busy day to visit your office. Make sure to be mindful of the time patients spend waiting for you. Just today, I took my daughter to a routine doctor follow-up visit. I hoped to get it completed on my lunch hour. Unfortunately, we had to wait so long in the office that I ended up needing to use vacation hours to cover for that time. When long waits do occur (as will be inevitable), acknowledge the wait and sincerely apologize.
3. Be involved. Don't limit your time with a patient to the office. Communicating with patients through regular newsletters, connecting with them on social media, and sending out a well-wishes text message now and again can go a long way towards creating that strong doctor-patient relationship you want. In fact, 42 percent of patients say they would be more engaged as patients if they were contacted between visits. It doesn't take long but can make an incredible difference. We've created a guide for staying in touch with visits.
To learn even more about improve patient engagement and patient satisfaction levels, I recommend you check out "Discover the Secret Sauce of Patient Satisfaction." It has lots of great ideas to get you started.